STRHS Lawrenceburg Unveils New Surgical Robot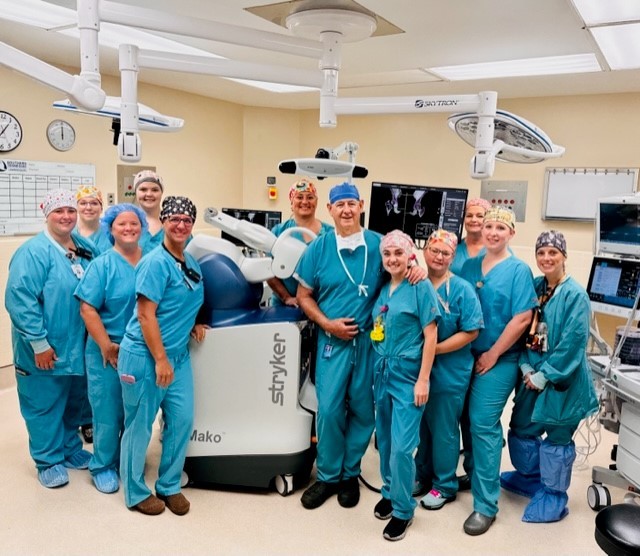 Southern Tennessee Regional Health System Lawrenceburg recently introduced a new treatment option for joint pain that uses Mako robotic technology for total knee, partial knee and total hip replacement. STRHS Lawrenceburg is proud to offer the latest technology in robotic-arm assisted procedure – a technology typically seen at larger hospitals – which allows surgeons to treat patients with greater precision.
Paul Thomas, MD, a board-certified orthopedic surgeon with years of experience performing joint replacement surgery with Mako robotic technology, successfully performed the hospital's first robotic-arm assisted total hip replacement with the new technology in early August at STRHS Lawrenceburg. Additionally, he plans to perform the hospital's first Mako total and partial knee replacement procedures in the upcoming months.
"We are proud to be a facility, close to home, that offers this option to patients with joint pain caused by arthritis or injury," Dr. Thomas said. "With robotic technology, we can perform surgery with more precision. For some patients, this can mean less soft tissue damage, for others, greater bone preservation. The goal is for our patients to have relief from their pain, regain mobility, and return to the activities they love. Patients can now be assured they are receiving the very best in orthopedic joint replacement with exceptional care in their own backyard without having to travel out of town or to larger hospitals."
Robotic-assisted surgery is a new approach to joint replacement that offers the potential for a higher level of patient-specific implant alignment and positioning. The technology allows orthopedic surgeons to create a 3D plan and perform joint replacement procedures using a physician-controlled robotic arm that helps the surgeon execute the procedure with a high degree of accuracy.
"The system's 3D CT technology allows me to create a personalized plan based on each patient's unique anatomy before entering the operating room," Dr. Thomas said. "During surgery, I can validate that plan and make any necessary adjustments while guiding the robotic arm to execute that plan with a high level of accuracy and predictability."
In looking to the future of healthcare in Lawrence County, Mike Howard, hospital CEO stated, "At STRHS Lawrenceburg we are continually seeking new ways of advancing our mission of making communities healthier and enhance the quality of care we provide Lawrence County and surrounding communities. This $850,000 investment in the latest technology in orthopedic joint repair is just another part of an ever-growing strategy to build STHRS Lawrenceburg's portfolio and provide excellent care close to home." Dr. Paul Thomas added to this mission, "with continued community support we can make every effort to keep our healthcare dollars at home here in Lawrence County, leading to further advances in healthcare for all in our hometown and surrounding communities."
To learn more about Robotic-Assisted Surgery at STRHS Lawrenceburg, please visit SouthernTnLawrenceburg.com.
Read All Posts